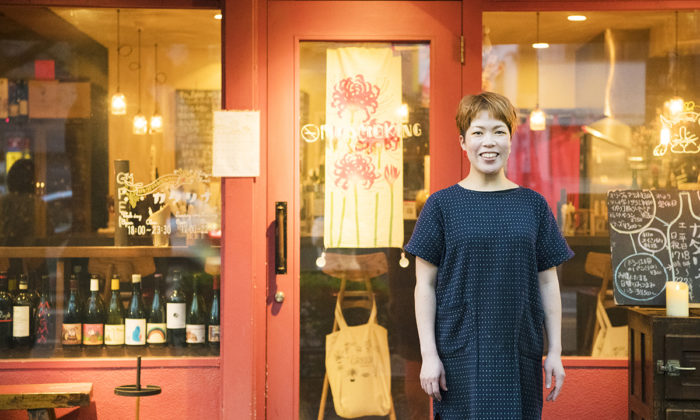 The popular natural wine bar Katarina has a friendly and cozy ambience within the appealing, unpretentious atmosphere of Araiyakushi, a neighborhood that's a mixing pot of old and new.
Visitors can find the famous Araiyakushi Baishoin Temple and a pleasant local atmosphere at Araiyakushi-mae Station, located only three stations away from Takadanobaba Station. In this neighborhood is the popular wine bar Katarina, with its friendly service and cozy atmosphere thanks to its owner Miyuki Iwasaki. The shopping alleys and cherry blossom-lined streets are home to both old and new establishments with a laid-back ambience.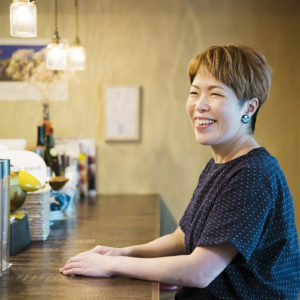 Miyuki Iwasaki
Seibu Line resident for thirty years
She has lived in other areas along the Seibu Line, such as Nerima, Toshimaen, and Ekoda, but now enjoys slightly "hometown" atmosphere of Araiyakushi.
The best way to recommend natural wine is through conversation at the bar counter.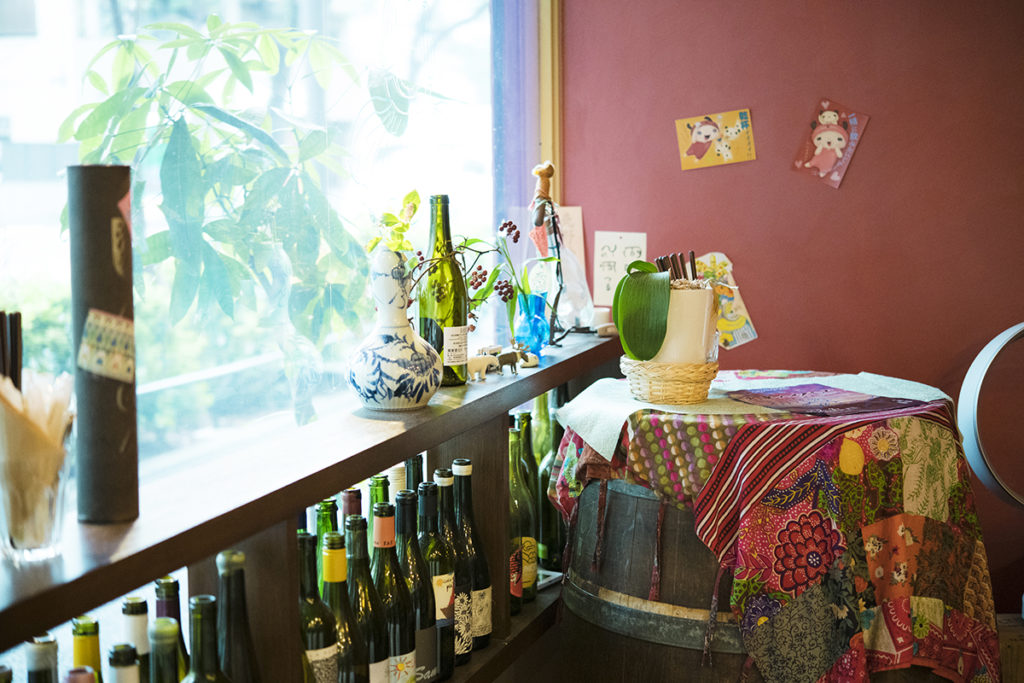 If only there was a place to go when you want to drink or eat, or just casually drop by alone after work… Katarina, an Araiyakushi establishment that offers natural wine, has no table charge, allowing patrons to drop in casually for just one glass of wine. The bar has wide windows so passersby can check out its appealing, welcoming atmosphere.
"Many female patrons come by themselves. Some patrons say that they had never gone drinking alone before, but felt comfortable enough to come here," says Miyuki.
This establishment is perfect for first-time drinking at a counter, as there are only counter seats and a friendly owner.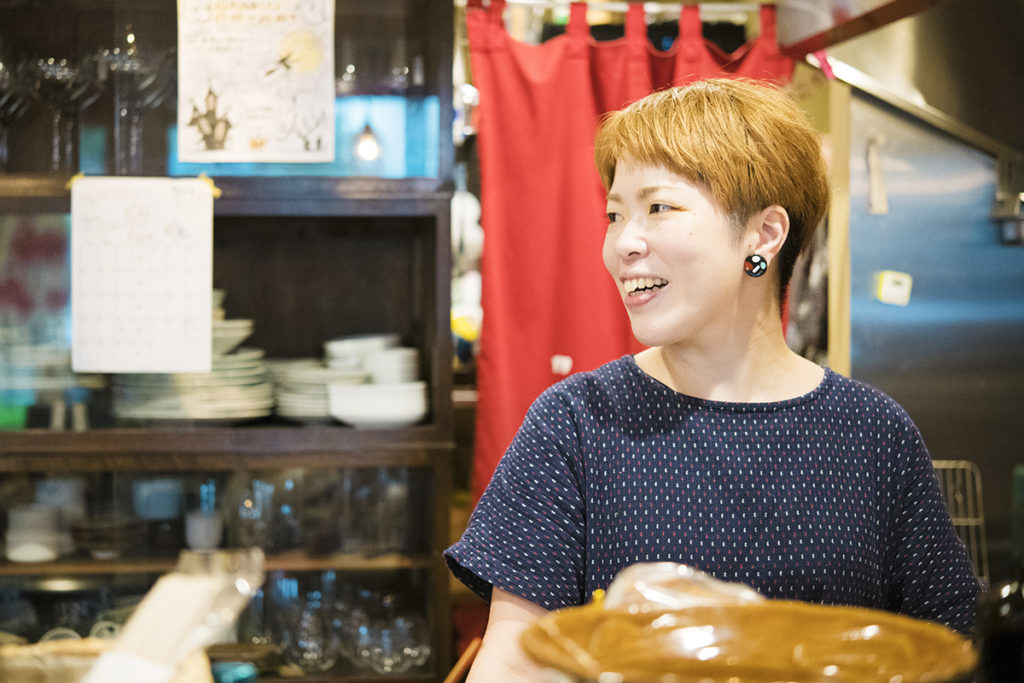 Miyuki previously worked at Petit Konishi, a wine bar in Nakano-sakaue. It was here she discovered the delicious world of natural wines. She became an owner of her own establishment at 31; a bar with a counter, just as she had wished for.
"Although the atmosphere of the places I frequent is important, at the end, it's all about the people. Instead of just giving patrons a menu, I wanted to give them recommendations through conversation."
If you're going to drink at the counter, why not enjoy the process of choosing your wine by chatting with the owner?
"When you've been doing this for nine years, it's extremely rewarding to see patrons who formerly didn't have a clue about wine, remember one I had recommended to them and say, 'Isn't this from the winemaker I tried and liked before?' It's moments like these I feel that I've attained my goals."
Unique natural wines and appetizers made with seasonal ingredients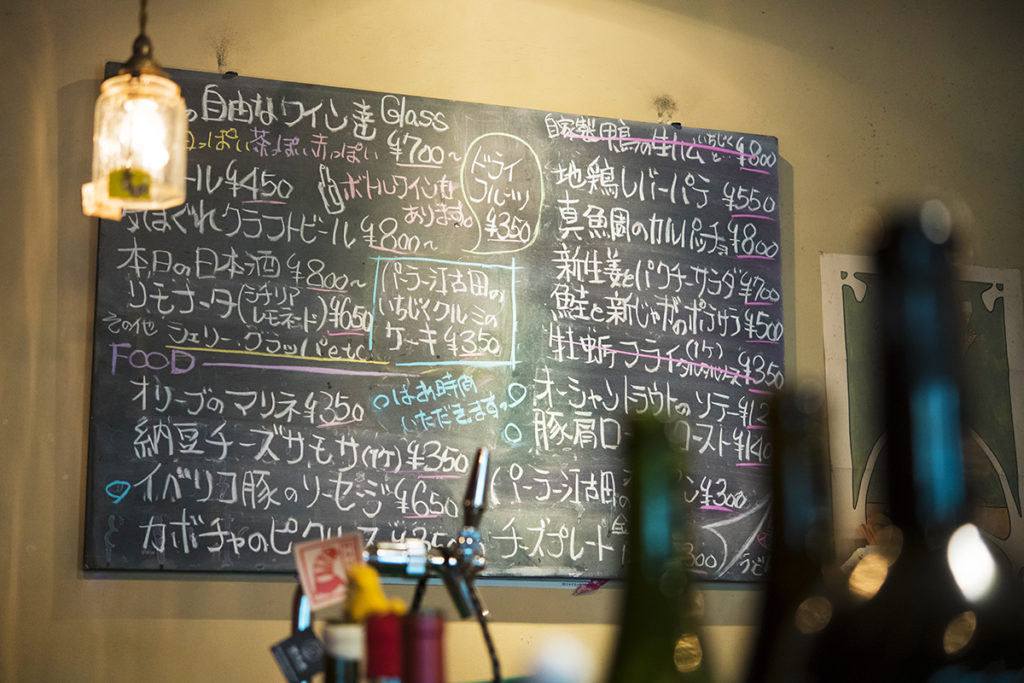 Katarina opened in May 2012, with a focus on natural wines. Natural wines vary dramatically in taste and personality depending on the maker of each wine. When in doubt, "I recommend selecting one by the label,"says Miyuki.
"There are many different winemakers, and I believe their personalities can be seen in their wine label. When in doubt what to drink, I recommend selecting a label you like. The fun aspect about natural wine is the winemaker's uniqueness, may it be its taste or label. I want to communicate the intent of each winemaker to my patrons as a bar and point of contact for wine."
It is because of the counter seats that one can enjoy conversation with Miyuki, while she efficiently cooks, talking about various episodes with winemakers, unique wine labels, and the delicious taste of wine.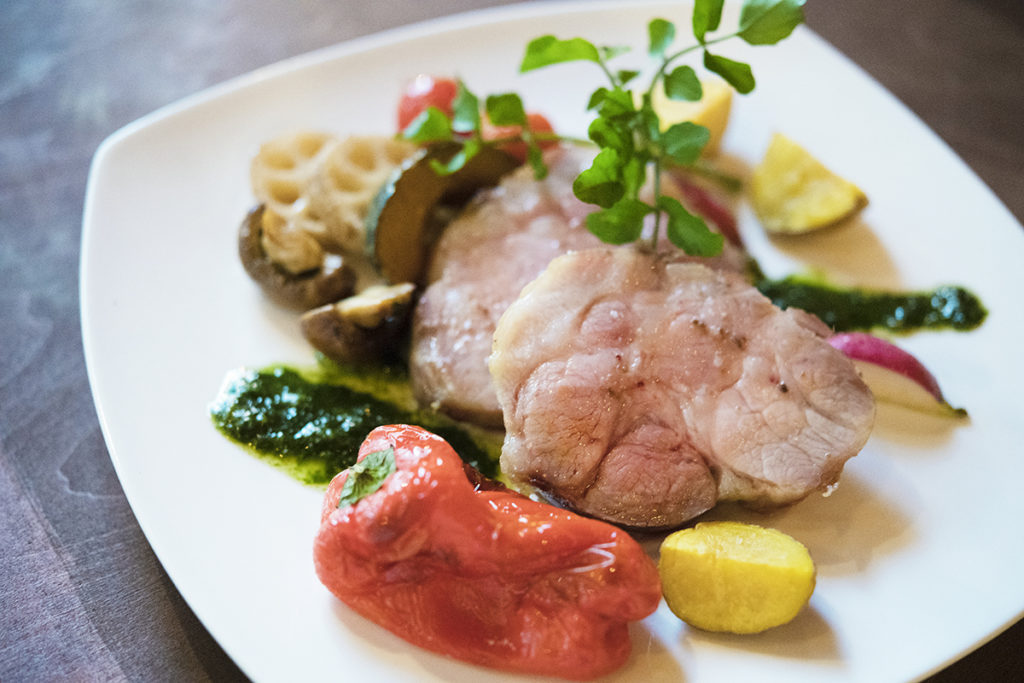 Miyuki says, "Please come during the cherry blossom season as well!" This area is actually a perfect place to view cherry blossoms, although it is not very well-known. In spring, the cherry trees that line Nakano-dori Avenue in front of Katarina go into full bloom. The area becomes lively in the weekends, with people visiting from far and wide to see the cherry blossoms.
"Every year during the cherry blossom season, Mr. Harada from 〈Parlour Ekoda〉 comes and visits to sell bread here.
Katarina sandwiches using Parlour Ekoda bread has been a popular event for the past nine years. We will naturally be holding this event next year as well. My bar rotates five types of bread from Parlour Ekoda daily, which I go to purchase on my bicycle. You can enjoy their bread at my bar every day except Tuesday, when Parlour Ekoda is closed."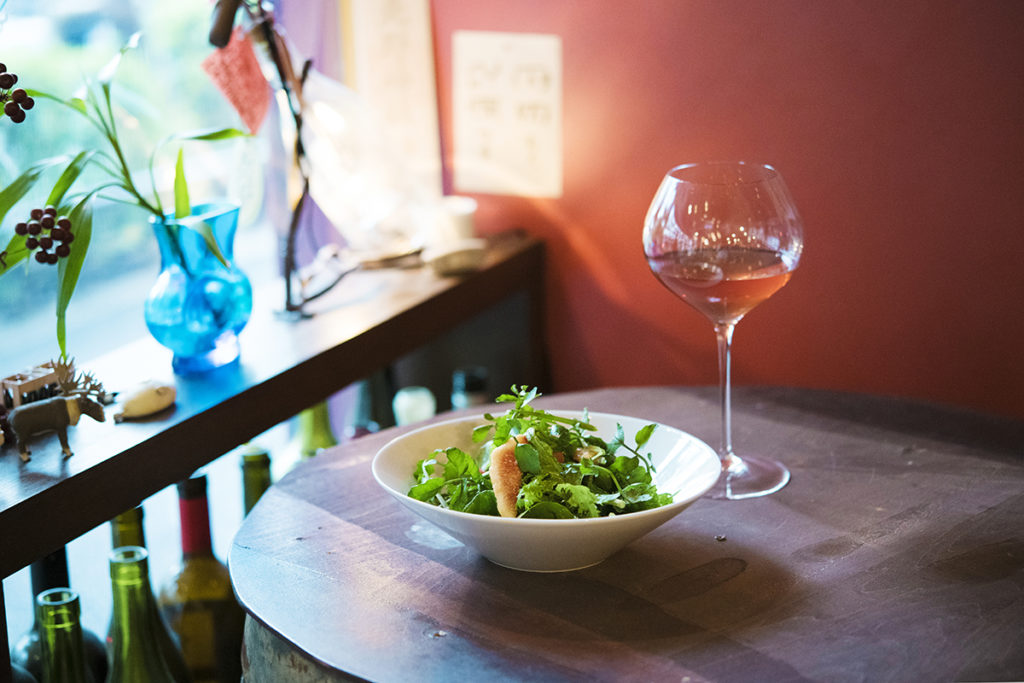 The broad appeal of Araiyakushi, where the old coexists with the new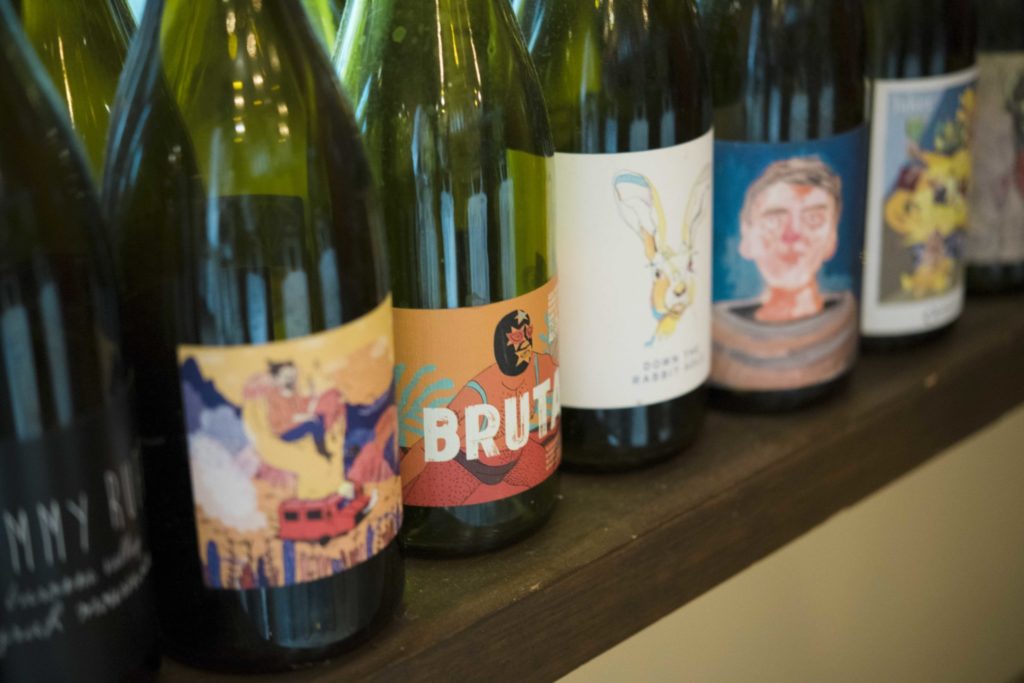 Before deciding to live near Araiyakushi-mae Station, Miyuki lived along the Seibu Line at Nerima and Ekoda. She gives the area's livability as the clincher.
"Nerima has good transportation. It was convenient living there, as there is a UNIQLO and a Seiyu supermarket right after you get off the train. Ekoda has a pleasant mix of art and local flair. There are a lot of tasty ramen restaurants, and of course, Parlour Ekoda (laughs)."
But the deciding factor for Araiyakushi-mae Station was its attractive slightly "hometown" atmosphere. Only a five minute walk from Katarina is the Yakushi Ai Road Shopping Street, where some of Miyuki's favorite stores can be found.
"Another positive element of opening my bar here was that I'm able to recommend various places to regular patrons. One of Araiyakushi's appeals is its slightly "hometown" atmosphere. Although Nakano has an urban feel to it, Araiyakushi's shopping streets still have traditional festivals. There are old-timers living here, and many newcomers too, because it's so easy to live here. There is a mix of old and new. The rent here is more affordable, and it is really convenient. Although there's no electric appliance store here, I think everything else is covered. It's a great place for families and single people. It's a place with something for everyone."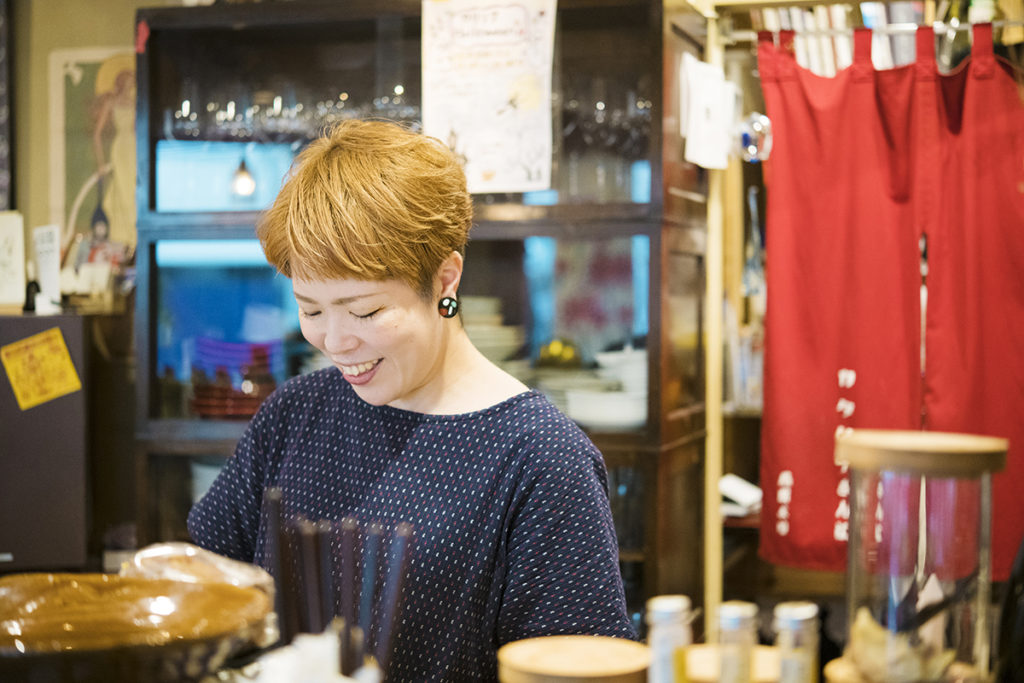 Although Katarina faces Nakano-dori Avenue, its slightly away from shopping areas and the station. It is said that Katarina has a secluded feel to it, and is a place well-known among connoisseurs. It is a place that makes you giddy with excitement to find in this area because you were not expecting it. A female patron says, "Miyuki-san's food has stolen my heart" and visits Katarina frequently. If you want a place you can visit regularly alone, why not come to Katarina!
About Katarina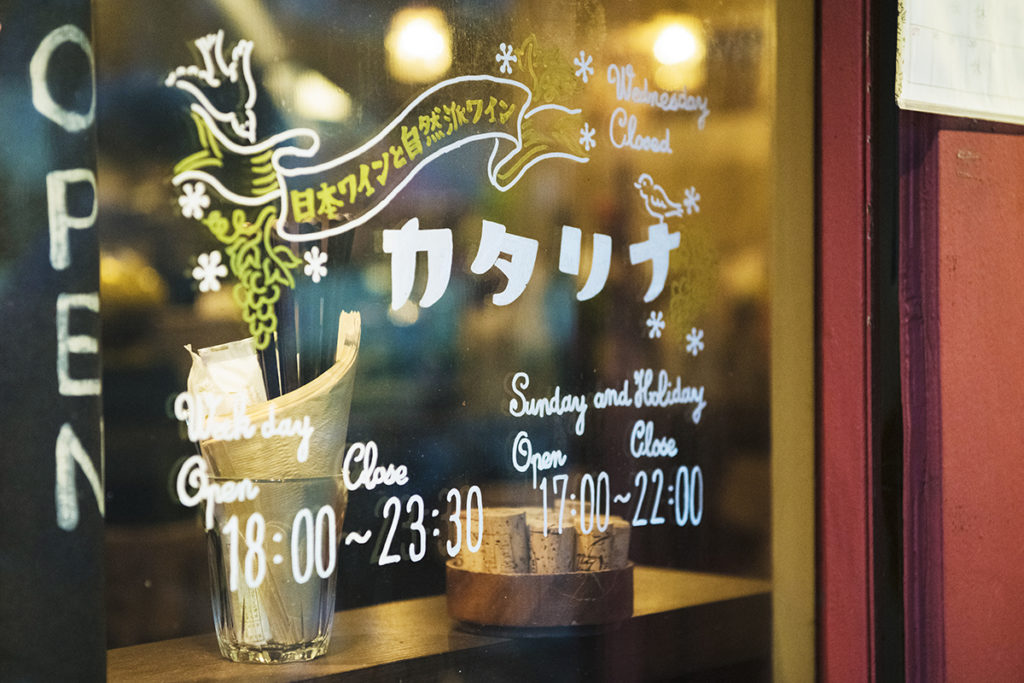 ■Location: 1F, 5-5-13 Arai, Nakano-ku, Tokyo
■Telephone: 03-5318-5622
■Business hours: Weekdays and Saturdays 18:00 - 23:00
Sunday & Holidays 17:00 - 22:00 (See announcements for non-scheduled days off on Facebook or Instagram.)
■Closed days: every Wednesday and a non-scheduled day off once a month
■Official website: https://www.facebook.com/KatarinaBiowinebar/
*The information published in this article is true as of the time of the interview, and may not reflect current circumstances.
(photo:Hiromi Kurokawa text:Kayo Yabushita)